My favourite line from
this article
is
definitely
the very last one. Please go read it!
And speaking of sex, I just finished reading
The Inner Circle
by T.C. Boyle.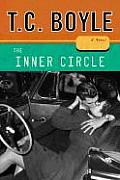 I generally agree with this
Washington Post review
, although I don't "almost wish I hadn't read it." I'm quite glad that I read it - I found it to be quite the page turner - although I agree that it is disturbing. The exploration of how the insistence that it is "just sex" impacts the relationships between the characters; how Milk's devotion to work influences his view of and relationship with the most important people in his life; the slippery slope into questionable moral practices that the characters slide down so easily (bring to mind Malcolm's rant in
Jurassic Park
: "You were so busy thinking about whether you could that you didn't stop to think about whether you should," or something along those lines)... I found it to be quite an interesting exploration of the intersection between our humanity and our "human animal" -ness.