So,
Sofya
has done it again (again because I use her yogurt recipe) with her
Easy End-of-Summer Moussaka
recipe. We had an eggplant that we needed to use, so I picked up the other stuff we needed, and gave this a shot this past weekend. It actually
was
really easy, and super yummy. I actually had 2 eggplants, so I think I ended up with an unfavourable meat : everything else ratio, but I wouldn't change anything other than making sure to use enough meat next time!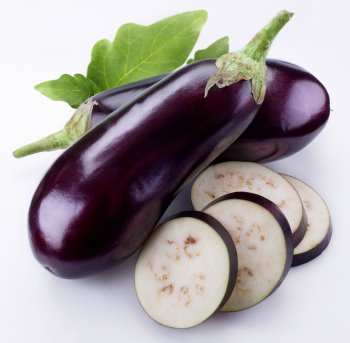 Eggplants are so pretty! I love their purpley goodness.
Of note, I did soak the eggplant to get rid of the bitterness, which I think was a good call. I've always been intimidated by cooking with eggplants, and I've been slowly making my way towards cooking them more (putting them in with other roasted veg; hubbub makes baba ghanoush), and this recipe is an awesome one for a beginner eggplant-cooker. The eggplant was easily my fave part of this dish!
Also, it makes great leftovers. Yum! I think next up I'll try my hand at
ratatouille
.