Hi friends -
Holy wow, it has been a busy week. Am I EVER glad that I took tomorrow off... I'm
really
looking forward to Thanksgiving weekend! I've got a whole stack of X-Men comics a friend lent me a while ago, and I really need to get on that... which I will be doing now that I have completed the last of the Kat Rosenfeld list!
Ruth Ozeki's My Year of Meats
was the Rosenfeld book I liked the best... and it was also the one I had the hardest time getting into. For some reason, the opening scene just wasn't doing it for me... but finally, I got into it, and I
loved
reading the story of these two women. And also, am seriously considering going organic in the meat department... but that's another conversation. Be warned, though, there's some pretty graphic, albeit brief, depictions of a slaughterhouse towards the end of the book. It was so good though.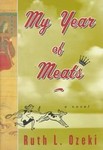 Next up is
Dignifying Science
, "the second in a series of books done in comics form telling true stories about scientists. This book features famous women scientists including Marie Curie, mathematician Emmy Noether, physicist Lise Meitner, DNA researcher Rosalind Franklin, biologist Barbara McClintock, primatologist Birute Galdikas, and Hedy Lamarr. Yes,
that
Hedy Lamarr...her story will surprise you!"
It was good - I liked the graphic novel approach - but I have one major complaint about it, which is the lack of context for the stories. I felt like each chapter was aimed at someone who already knew about the scientist in question, so I was often lost. I discovered an appendix at the end which gave some historical/contextual information about each scientist - I really think that they should have put this as an introductory page before the story. I would have gotten more out of it that way, and suspect others would have, too! Nonetheless, I have borrowed other graphic novels by the same author from the library, and am looking forward to reading them (and have a hold on the one about Feynman - I expect that to be a hoot!)